In London it's easy to get off the beaten track, avoid the crowds, and find somewhere your friends have never been. So after you've checked off Buckingham Palace and the Houses of Parliament, find these places that will give you a unique view of the city:
1. A timewarp London house
Just by the popular East London Spitalfields Market is a wonderfully atmospheric London street with the bizarre but fascinating Dennis Severs' House. American Dennis Severs bought the house 30 years ago and lived here, without electricity and other home comforts, while creating something unique for visitors. It's still a private home, not a museum, but opens regularly. You're advised to walk around in silence to let your senses fully experience the setting. Severs created an imaginary family to live in this Huguenot silk weaver's home so you'll see signs of life of Mr Isaac Jervis, his family, and their descendants such as fresh fruit on the table, half drunk cups of tea, and you'll soon believe they've just popped out which is what you're supposed to think. It's really hard to describe this place but it's well worth a visit.
2. An architect's treasure trove and some gruesome artefacts
Lincoln's Inn Fields is the largest public square in London and is said to be the inspiration for Central Park in New York. On either side of the square you'll find Sir John Soane's Museum and the Hunterian Museum. Sir John Soane was an architect and avid collector of antiquities. He left his home and contents to be forever free for the public to see - and there's an incredible amount to look at here. You'll find bizarreness such as the sarcophagus of Seti I in the crypt, and an astonishing unfolding wall of Hogarth paintings in the picture gallery. Across the square is the Hunterian Museum at the Royal College of Surgeons, an interesting look at the history of surgery, with lots of glass jars with preserved animal and human body parts - so it's not for the squeamish. If you're a Dickens fan, the Old Curiosity Shop is nearby too. Now a high-end shoe store, the shop was once a bookstore and is known as one of the oldest shops in London!
3. A museum on what we buy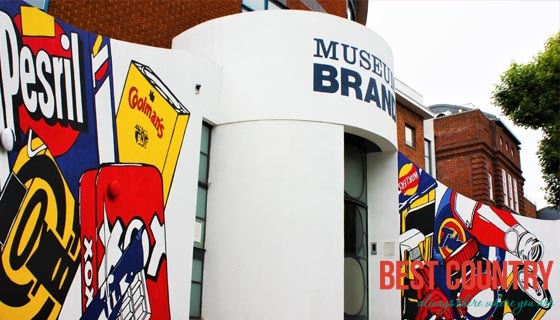 The Museum of Brands in Notting Hill is exactly what it says on the tin. Robert Opie collected daily life, consumer objects since he was 16 and this museum displays more than 12,000 original items. From shampoo bottles and washing powder boxes to toys and food packaging, see what you and your family can recognise. The Museum of Brands is a real trip down memory lane and a great way to enjoy living history.
4. A place for free speech
Every Sunday afternoon you can hear preaching and ranting at Speaker's Corner a corner of Hyde Park, near Marble Arch tube station, which has long been established as a place where free speech is welcome and encouraged. There's plenty of religion and politics but also some off-the-wall ideas such as free hugs and alien invader news. Karl Marx and Lenin have spoken here so there may be someone worth listening to or you can try your hand at public speaking here!
5. The final resting place of many a famous figure
Speaking of Karl Marx, his final resting place is in north London at Highgate Cemetery. It's a large cemetery, split into East and West on either side of a quaint lane. The East Cemetery is where you can see Karl Marx's Memorial and Malcolm McLaren's tombstone. Over on the West you have to take a guided tour as it's incredibly overgrown and the ground can be pretty uneven and they don't want to lose you in there. All entrance and tour fees go towards the up-keep and repairs on site.
6. London's Roman baths
No one's sure if these are really Roman but they are indeed an oddity in central London and a bit of a challenge to find so follow detailed directions. A 10-minute walk from Trafalgar Square, down a side road, through a tunnel, press a button for a light to come on, look through a window and you too will see what I'm talking about. Charles Dickens refers to the baths in David Copperfield and the lead character was said to regularly use the plunge bath here.
7. A palace that's free to visit
Here's a London Palace you can visit for free. Fulham Palace was the Bishops of London's country home from the 11th century so it's never been a royal palace, but the British did treat their Bishops regally. There's a museum documenting the site's history, with a contemporary gallery of palace-inspired art, the Drawing Room Cafe which is loved by locals, and splendid gardens to explore.
8. A free museum full of quirky
Victorian finds In South London, a short train ride from London Bridge, you'll find the Horniman Museum, founded by Victorian tea trader Frederick Horniman, who collected most of the artefacts on his travels. It's a brilliant free natural and cultural history museum which even has an aquarium, farmyard animals outside and regular concerts on the bandstand. All of this and the strangest walrus you will ever see make this a great day out. (See more photos of the Horniman collection.) For even more museums that have free admission, click here!
9. Sit with Churchill and Roosevelt
This bench in central London is called Allies and commemorated 50 years of peace. The bronze statues of Franklin D Roosevelt and Winston Churchill appear to be sitting and having a chat but there's a handy space between them for you to sit down. It makes for a fun photo opportunity. Note how shiny Churchill's right and Roosevelt's left knees are from visitors giving them a rub! After having a laugh here you might want to visit the Cabinet War Rooms or the Britain At War Experience or even sit in Winston Churchill's chair at the Cigar Museum.
10. A fine art gallery with a Roman amphitheatre in the basement
It's free to visit the impressive Guildhall Art Gallery and Roman Amphitheatre, located in the City. And yes, you did read Roman amphitheatre: its remains were only discovered under the gallery in 1998 and is now a protected monument. The curved line of the amphitheatre continues across the courtyard outside so you get the picture of just how significant a building it would've been.