There is more to winter travel than skiing and snowboarding. Nontraditional winter sports and activities have sprouted up all over the world, catering to adventurers who crave new ways to get their adrenaline pumping.
Here are our ten favourite out-of-the-ordinary outdoor sports for your next winter vacation.
1. Polar bear swimming in Korea
Each January in Busan, thrill-seeking locals jump into the freezing cold water of the Korea Strait in nothing but their bikinis and swim trunks. The Polar Bear Swim competition has taken place at Haeundae Beach every year since 1988. It is the Korean way of welcoming good health in the new year. Get ready to run 10 meters across the sand, leap into the icy water, and then swim 80 meters toward the finish line. Even though it is technically a race, the Korean Tourism Organization points out that the Polar Bear Swim is less about competition and more about spreading good cheer.
2. Ski biking in Colorado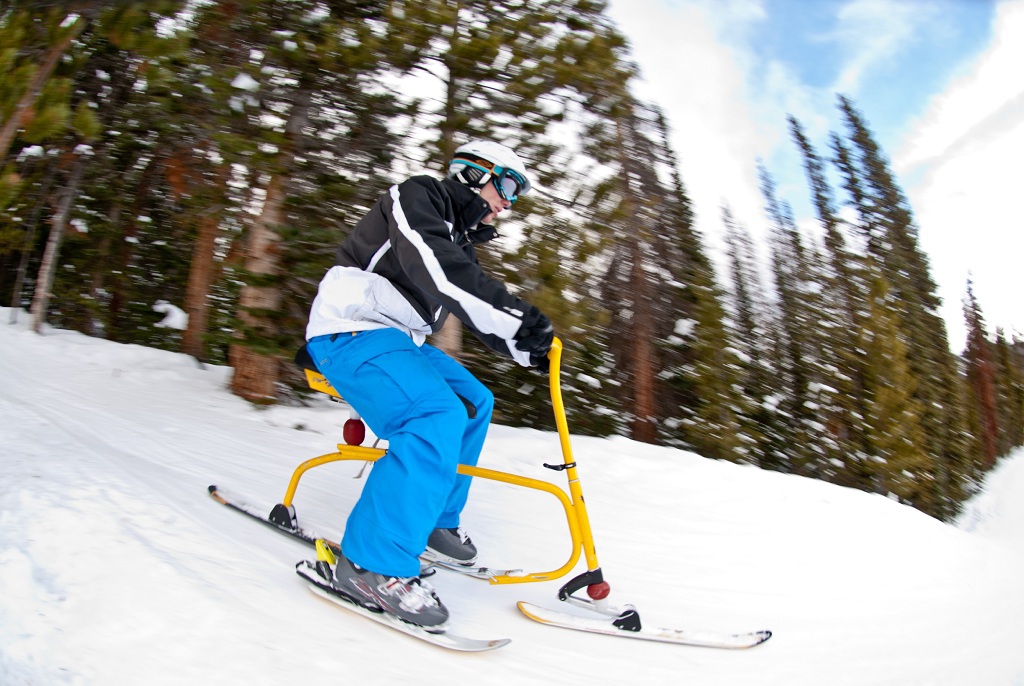 If bicycling in the snow sounds like trouble, try riding a bike outfitted with skis instead of wheels down snowy slopes in Colorado's Rocky Mountains. Durango Mountain Resort has long offered ski biking as one of its winter activities. The ski resort holds an international ski bike festival once a year for participants and spectators alike. Be sure to take a lesson or two before going out on the slopes for the first time; it is not as easy as the YouTube videos make it look.
3. Ice karting in Finland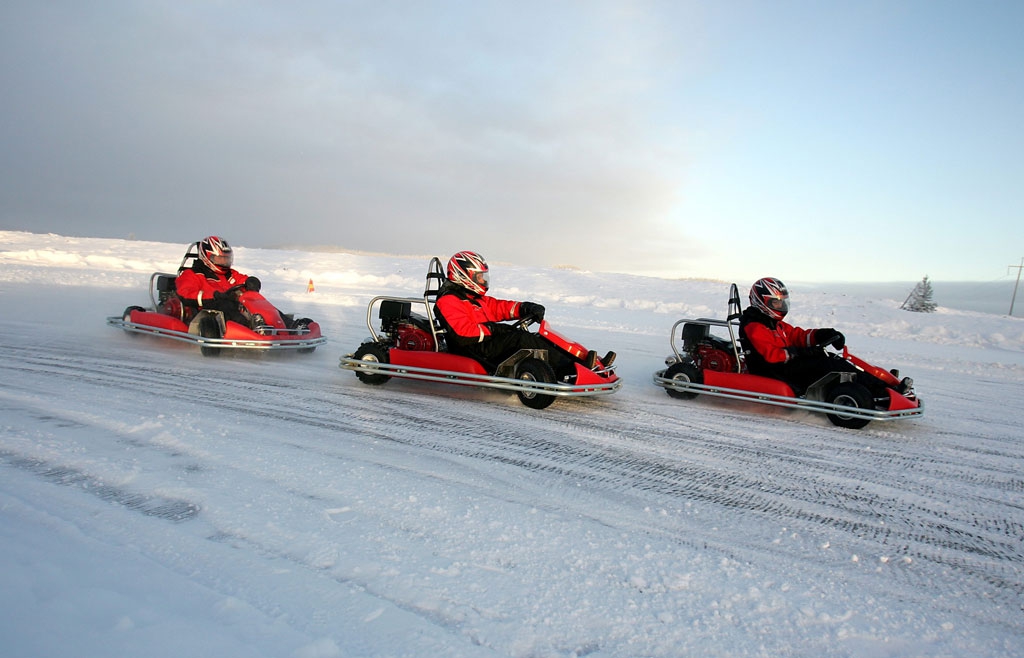 What could be more fun than go-kart racing on ice? In Kuusamo, Finland, give reckless driving a try on a frozen lake. Race against a few friends or strangers at Ruka Adventures with the chance to win a medal. After the adrenaline rush, relax with some complimentary coffee, tea, sweets and sausages.
4. Dog sledding in Alaska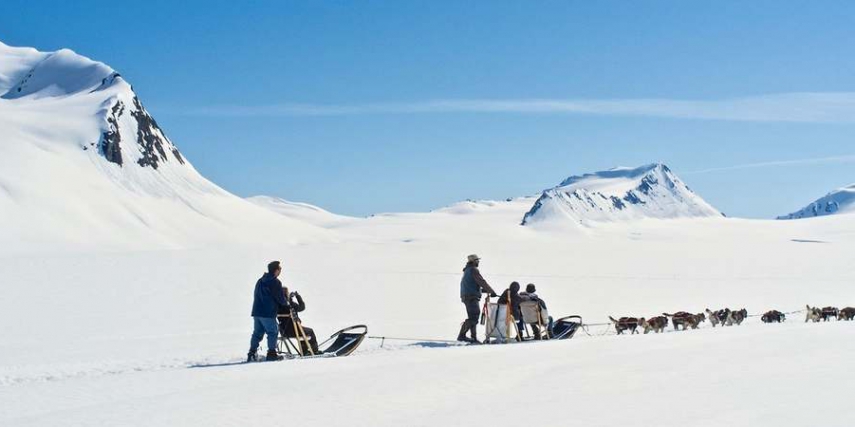 Dog sledding, or mushing, is Alaska's official sport. Enjoy the ride while a team of adorable huskies pulls you along for either a short sprint or a long journey. Dog sled rides can last anywhere from minutes to days, depending on your interests. Alaska Best Wilderness, based in Tanana, has 11-day backpacking expeditions that combine mushing, trekking and rafting. If you just want an afternoon with the beautiful sled dogs, Sun Dog Express in Fairbanks offers guided tours starting from just half a mile long.
5. Skijoring in Minnesota
For a snowy adventure with your own dogs, try skijoring in Minnesota. Skijoring is a combination of cross country skiing and dog sledding in which a person on skis is pulled along by his or her pups. The Midwest Skijorers Club holds skijoring events around the Twin Cities in Minnesota.
6. Snow tubing in Canada
Snow lovers who do not ski or snowboard will love snow tubing. Basically sledding in a tube, snowtubing is easy, cheap and incredibly fun. Rock Ridge Recreation Park in Ontario is especially dedicated to the sport and features six tubing runs. Attach a few tubes together to go down the slopes with your friends or family. Rock Ridge's season this year begins the day after Christmas.
7. Ice climbing in Chile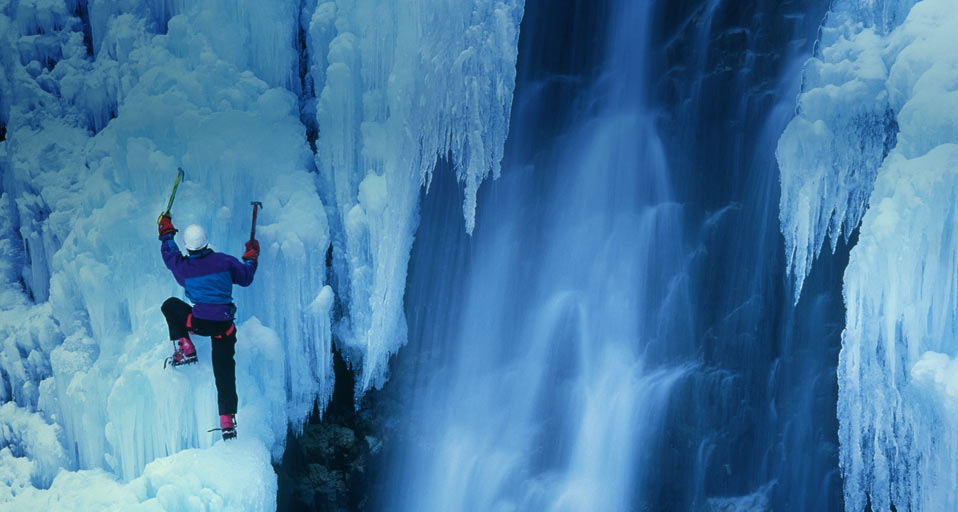 True exhilaration can be found just outside of Santiago, Chile in Cajon del Maipo. There, the awe-inspiring El Morado Glacier sets the scene for a simultaneously magnificent, terrifying and thrilling ice climbing trip. Trek out to the southwest side of Cerro El Morado where the most adventurous of adventurers climb the hanging glacier. The sights are spectacular, so remember to bring a camera.
8. Ice sailing in Poland
Feel the blustery wind rush over you as you sail across Poland's Great Masurian Lakes when they freeze over in the winter. With no waves to slow you down, the sport brings new meaning to the term "smooth sailing". Iceboats can reach very high speeds, so racing should only be attempted after you get the hang of basic sailing.
9. Snowkiting in Utah
While many snowkite enthusiasts use a board or skis, all you really need to go snowkiting is a power kite and an appetite for excitement. Glide down the slopes in snowy Utah and let the wind pull you up into the air. Lessons can be found at the Utah Kite Addiction snowkiting school in the Ogden Valley. Beginners should take a class to learn the basics about snowkiting safety.
10. Shark ice fishing in Greenland
The Greenland Shark Challenge is anything but your average fishing trip. Battle icy waters to catch Greenland's largest fish, the Greenland shark. These sharks can get reach 21 feet and 2,200 pounds, so reeling one in is a feat worthy of bragging rights. The Challenge takes place in the beautiful town of Uummannaq which boasts stunning views of glaciers and mountains. Book a fixed week-long fishing tour or arrange for an individual angling trip with a local fisherman.