From swish $80 suites in the Grenadines to Jamaica`s own gondola rides, the Caribbean is full of surprises this season. The biggest shock? What you`ll end up paying. Budget Travel editors hunt out the best bargains this season.
Anguilla: Anacaona Boutique Hotel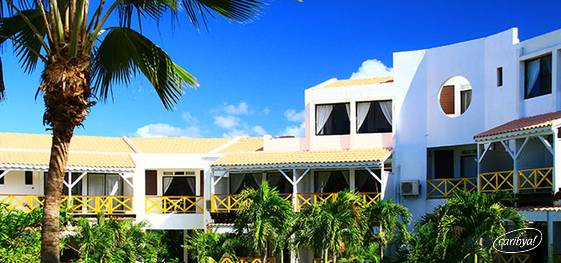 Effortlessly casual rooms within reach: Anguilla is best known for jet-setters and exclusive resorts and that`s what makes the new Anacaona Boutique Hotel such a pleasant surprise. Created by Robin and Sue Ricketts (the pros behind the development of luxe properties like the $400-plus-a-night Cap Juluca), the Mediterranean-style resort is Anguilla as you want it: chic but attainable. The 27 rooms all come with balconies, the poolside restaurant specializes in traditional Anguillan food (large portions of grilled fish and goat), and the white sand of Meads Bay is only a four-minute walk north before setting off, be sure to borrow some free snorkel gear at the front desk. 877/647-4736, anacaonahotel.com, from $150.
Antigua: Siboney Beach Club
Five-star service right on the beach: This 108-square-mile island claims more than 300 beaches, and you can bet that Siboney Beach Club owner Tony Johnson knows just about all of them. Johnson arrived on Antigua more than 50 years ago and managed the construction of a handful of hotels before starting his own, a 13-room inn with an immaculately tended garden on Dickenson Bay. The design of the rooms is fairly basic, but Johnson`s attention to detail will knock your socks off. He looks after guests like a doting uncle, often greeting visitors at check-in, sharing his favorite sights, and acting as de facto concierge, trip planner, and local guide all at once. 800/533-0234, siboneybeachclub.com, from $150.
Aruba: Wreck of the Antilla
A marine-life megaplex: In 1940, the captain of the German freighter Antilla, a supply craft for Nazi U-boats, scuttled his ship off the coast of Aruba rather than surrender it to Dutch soldiers. Seventy years later, the wreck has evolved into a marine-life megaplex. Silversides, angelfish, and groupers swarm the steel carcass, its walls adorned with brain coral, tube sponges, and fan worms. Because the Antilla lounges in just 60 feet of water, portions of the vessel rise to within kissing distance of the surface. Red Sail Sports, the biggest outfit around, operates snorkel and dive trips by catamaran daily, except Sundays. 305/454-2538, redsailaruba.com, half-day trips from $45.
Get There Fast
Port Antonio, Jamaica: Because no one should spend a vacation messing with connections.
Over the past two years, Jamaica has seen a furious building spree, adding some 3,000 rooms to the island`s inventory. In response, airlines are catching up; seven new direct flights were added this year, connecting Jamaica to more U.S. cities (16) than any other Caribbean island. Carriers have even made concessions for Western states: A new US Airways route from Phoenix means you can depart in the morning and be on the beach by sunset.
While 76 percent of Jamaica`s flights descend into the tourist hub of Montego Bay, nothing says you have to stay there. The northern coast is scattered with other resort areas, from Negril`s mom-and-pop inns and colossal all-inclusives to the cruise port of Ocho Rios, best known for the postcard-perfect Dunn`s River Falls. But for a real adventure, visitors should consider heading east to Port Antonio. The laid-back colonial-era town sandwiched between quiet beaches like Winifred and Long Bay recalls Jamaica before the tourist boom.
There are plenty of places to stay, but Goblin Hill is a standout. The collection of one- and two-bedroom villas overlooks the gin-clear water of San San Bay, and each one comes with a personal gal Friday, who handles both the housekeeping and food shopping. Down the road in Boston Bay, you`ll find the island`s best jerk cooking chicken, ribs, and fish bathed in fiery, Scotch-bonnet-pepper marinade and slow-grilled over pimento wood doled out from makeshift huts. Finally, if you need a break from the coast, it`s worth taking the one-hour drive to Moore Town in the Blue Mountains. The settlement is home to the Windward Maroons, a semiautonomous community founded by escaped slaves that offers a unique window into Jamaica`s past. Goblin Hill, 800/472-1148, goblinhillvillas.com, from $135.
Barbados: Sea-U Guest House
Crash pad for Caribbean surfers: The rugged, wave-tossed Atlantic Coast of Barbados has spawned one of the coolest little surf scenes in all the Caribbean. And the Sea-U Guest House, in the village of Bathsheba, steps away from the water, sits right at its heart. The nine-room traditional Bajan inn, with a peaked roof, louvered windows, and a broad veranda, is as laid-back as its surroundings: Hammocks are strung up across the property, and sweet small touches like an honor bar out back preserve the vibe. German expat owner Uschi Wetzels serves a complimentary full breakfast of eggs, bacon, and freshly made banana and coconut breads each morning, and she`s more than happy to connect guests with local surf instructors such as homegrown legend Melanie Pitcher. 246/433-9450, seaubarbados.com, from $119 including breakfast.
Bequi: Sugarapple Inn
The splashiest $80 rooms around: You could be forgiven for never having heard of Bequia (beck-way), a seven-square-mile outpost in the Grenadines, but spend a few days here and you`ll never forget it. With sailboats bobbing in Port Elizabeth`s pint-size harbor and pocket beaches in seemingly every cove, the island is all charm, and few hotels reflect that more than the Sugarapple Inn. Set on a hillside overlooking Friendship Bay, the inn has eight rooms splashed in bright colors like mango, lime, and papaya. Each unit has an open-air kitchen and sitting area, and guests have access to a pool, sundeck, and free local cell phone. One tip: All rooms are priced the same, but the ones on the upper level have higher ceilings and better views of the water below. 784/457-3148, sugarappleinn.com, from $80.
Dominica: Waitukubuli National Trail
A walk on the Caribbean`s wild side: From its black-sand beaches to its boiling lake and 10 active volcanoes, Dominica (dom-in-eek-a) is a one-of-a-kind island and there`s no better way to get a taste for what makes it so special than by hiking the new Waitukubuli National Trail. In August, the first two segments of the 115-mile trans-island trail were completed. Running through World Heritages listed rain forest, the two legs span seven and eight miles, respectively, from Wotton Waven to Pont Casse and on to Castle Bruce, and pass mountain villages, jungle-covered peaks, and two different waterfalls, Middleham Falls and Emerald Pool, along the way. Additional sections are slated to open throughout the year. 767/448-2045, download a free map and brochure at BudgetTravel.com/dominicapdf.
Jamaica: Montego Bay
Gondolas go tropical: In 1950, Errol Flynn, the famed swashbuckler of the silver screen, relocated from Hollywood to Jamaica and started a tourism phenomenon: bamboo raft tours. For years, the simple crafts had been used to haul produce from the mountains to the coast, but it was Flynn who convinced boatmen to guide visitors instead. Today, the sturdy, 30-foot-long vessels have become the Jamaican equivalent of the Venetian gondola, complete with two-person love seats and photo ops galore. The Martha Brae River trips, lasting 90 minutes to three hours, start at put-ins just outside Montego Bay, wind past green mountains and traditional villages, and take in everything from vendors on the banks hawking snacks to kids performing somersaults into the water. 876/952-0889, visitjamaica.com, from $60.
Eleuthera, Bahamas: Because here you can escape everything (except the long arm of the law).
It's telling that Eleuthera's biggest news in years came from the capture of a man trying to fall off the map. Following the arrest of the Barefoot Bandit in July, the little-known Bahamian island anchored the 24-hour news cycle for about two days; then as it always does it slipped blessedly back off the radar.
Unlike Nassau or Paradise Island, Eleuthera sees hundreds, not thousands, of visitors at a time, and they're spread across miles of pristine beaches and bays. The reasons for its isolation are complex a series of boom and bust real-estate deals since the '50s, a few devastating storms but the seclusion might not last much longer. New developments loom, and Florida's proximity (a mere 300 miles away) is a draw that travelers are likely to pick up on soon.
Because the island is 112 miles long and incredibly thin it claims to have the narrowest strip of permanent land on the planet your best bet is to fly into Governor's Harbour, in Eleuthera's center, and fan out from there. Just south of the airport, the 4-year-old Pineapple Fields is an ideal base camp. The 32 one- and two-bedroom units are scattered among bougainvillea, avocado, and star-fruit trees. Two-mile French Leave Beach, one of the prettiest on the island, is just a half mile north, and on-site Tippy's Restaurant & Bar serves island favorites like conch fritters and lobster pizza.
From the hotel, you can book half-day snorkeling tripss the dives at Current Cut will have you bobbing by gentle nurse sharks and spotted eagle rays or world-class bonefishing excursions; local guide and fly-casting master Gersham Pinder will share his wealth of knowledge on the island's natural history, bush culture, and, of course, fishing spots. Pineapple Fields, 877/677-9539, pineapplefields.com, from $160; Gersham Pinder 242/464-0754, full-day bonefishing trips from $200.
Martinique: Le Domaine St. Aubin
Sleeps sanctioned by Sarkozy: You wouldn't expect a hotel that's hosted a head of state (Nicolas Sarkozy in 2007) to fall into the affordable category, but Le Domaine St. Aubin is that rare exception. Located amid the sugarcane fields and mango trees that overlook Martinique's less developed northeastern coast, Le Domaine is a passion project for Laurent and Joëlle Rosemain, who spearheaded a top-down renovation of the historic French-colonial plantation house. All 30 rooms are richly decorated with mahogany furniture, and common areas are accented with heirlooms from Laurent's family, whose island lineage dates to 1715. At the restaurant, however, the food takes center stage: The menu is filled with French Caribbean creations like lamb curry, fresh seafood, and chocolate soufflé with lime and rum. 011-596/596-69-34-77, ledomainesaintaubin.com, from $136.
Get There Cheap
Playa del Carmen, Mexico: Because there are still places where the dollar goes far.
Plenty of Caribbean destinations are accessible via cheap flights Puerto Rico, Jamaica, the Dominican Republic but when it comes to the Riviera Maya, low airfare is only the beginning of your savings. Count an approximate 20 percent drop in the peso since 2008 as reason No. 1 why your dollar will go further here than it will in any other Caribbean spot.
Once you land, all trips begin in Cancún, but from there the options are wide open, from the glitzy high-rises of Cancún's Hotel Zone to the thatched palapas of Tulum, one hour south. For convenience, however, Playa del Carmen, about 30 minutes south of the airport, can't be topped. Set smack in the middle of the 81-mile-long Riviera, Playa is just steps from the beach, a short ferry ride to the legendary dive sites of Cozumel, and a two-hour drive to the Mayan ruins of Chichén Itzá. In town, Mamita's Beach Club has white daybeds along the sand and a DJ spinning low-key dance music; just to the north, visitors can spend hours scanning for white scallop shells on Maroma Beach, arguably the area's most beautiful.
Most hotels in Playa are set back from the beach. Case in point, La Tortuga Hotel and Spa. Run by two Italian brothers, the 51-room inn tempts swimmers with a mazelike pool that looks as if it fell out of an M.C. Escher painting. The hotel is only a block from 5th Avenue, a hotbed of bars, restaurants, and clubs, and five blocks from La Tarraya, the oldest restaurant in Playa and a standout spot for fish tacos, ceviche, and ice-cold cerveza. If you'd rather stay on the sand, the thatch-roofed cabanas of Mahékal Beach Resort, complete with wooden decks and hammocks, will have you feeling like Robinson Crusoe in no time. Mamita's Beach Club, mamitasbeachclub.com, chair rentals $7 for the afternoon; La Tortuga Hotel and Spa. 866/550-6818, hotellatortuga.com, from $114; La Tarraya, 984/873-2040, tacos from $3; Mahékal Beach Resort, 877/235-4452, mahekalplaya.com, cabanas from $171 including breakfast and dinner.
St. Lucia: Bay Gardens Beach Resort
Small-inn feel, big-resort perks: In general, travelers to the Caribbean have two clear-cut options when booking hotels: smaller, intimate inns or larger resorts with serious services. St. Lucia's Bay Gardens Beach Resort bridges the gap. The 72-room hotel, on two-mile Reduit Beach immediately west of Rodney Bay, occupies a series of three-story houses that wrap around a doughnut-shaped pool and a beachfront restaurant. Visitors can choose between rooms or full suites (with kitchens), and from enough activities to fill two vacations: There's a dive shop, water-sports center, spa, yoga studio, deli, two restaurants, four separate bars, nightly concerts, and even perfor-mances by fire-eating dancers. If it starts to feel like a circus, the almost entirely St. Lucian staff balances the experience with deep local knowledge you won't find elsewhere. 877/620-3200, baygardensbeachresort.com, from $155.
Anse la Raye
Town-wide fish fry: Each Friday, shortly before sunset, the St. Lucian hamlet of Anse La Raye plays host to one of the Caribbean's most distinctive food events: the fish fry. Within the two dozen or so food stalls on Front Street 'right along the beach' you'll find everything from grilled dorado and red snapper to octopus, shrimp, conch, and even lobster, depending on the day's catch. After rounding out the mix with staples like fresh bakes (fry bread), accras (salt-cod fritters), and plantains, diners can head down to the beach to claim a picnic table in the sand. The bill? About $10. Off Mole St., stlucia.org.
British Virgin Islands: Guavaberry Spring Bay Vacation Homes
Covetable private cottages: There are few spots more scenic than the Baths on Virgin Gorda the idyllic, boulder-flanked grottoes are a staple of postcards and posters. And therein lies the challenge. How do you see them without the crowds? The answer comes in the form of the Guavaberry Spring Bay Vacation Homes, a collection of stilted, stand-alone one-, two-, or three-bedroom cottages with full kitchens, just a 10-minute walk from the Baths. The plan: Spend an afternoon relaxing on the beach at Spring Bay, a few minutes north of Guavaberry; then, as the sun starts to sink, walk south to the Baths. You should arrive just in time for sunset exactly when all the day-trippers from neighboring Tortola are packing up. 284/495-5227, guavaberryspringbay.com, from $150.
Best Bargain All-Inclusives (Under $200!)
Since the first Club Med opened in Mallorca 60 years ago, all-inclusive resorts have spread to every corner of the globe, many of them in the Caribbean. They all claim to offer good value, but some can cost upwards of $700 a night. We scoured the field for four where you can find a room (and drinks and activities and everything else) for less than $200.
Riu Hotels & Resorts
One of the largest chains in the Caribbean, Riu has 23 hotels in Cancún and the Riviera Maya, the Dominican Republic, Jamaica, the Bahamas, and Aruba. Most resorts are high-rises that flank sprawling, free-form swimming pools, the Riu signature. Best value: Doubles typically start around $200 a night, but rates at ClubHotel Riu Bachata in Puerto Plata, Dominican Republic, are only $98 and up. riu.com.
Barceló Hotels & Resorts
Perhaps owing to the predominantly European clientele, Barceló's 14 Caribbean hotels five on the Riviera Maya and seven in the Dominican Republic come off like Mediterranean transplants, with antipasto set out for lunch and loungers on the beachfront. Best value: Doubles start at $152 in the Barceló Bávaro Palace in Punta Cana, Dominican Republic. barcelo.com.
Breezes Resorts & Spas
With four resorts in Jamaica, one in the Bahamas, and one in Curaçao, Breezes tailors each property to its customers, from the family focus of Trelawny to the couples-centric vibe of the Breezes Bahamas. Best value: Off-season specials at the Breezes Runaway Bay Resort & Golf Club in Jamaica can go for as low as $175 a night. breezes.com.
Grand Pineapple Beach Resorts
Barely 2 years old, the Grand Pineapple Beach properties are the more moderately priced face of the successful Sandals luxury chain. With one resort in Negril and one in Antigua, the resorts are both family-friendly (tours are available to water parks and zip lines) and ideal for basic beach lovers. Best value: Doubles in low-rise cottages at the Negril outpost start at $176. grandpineapple.com.
By David Swanson, Budget Travel (www.bing.com)