It's a nation so blessed with sights -- natural and man-made -- that you could ask all 300 million residents for their favorites and expect 300 million different answers. So how do you go about picking the country's 10 most beautiful spots?
Well, for starters, you go about it very boldly. You solicit opinions from travel writers and photographers, poll your colleagues, and talk to outdoor enthusiasts, historic preservationists and relatives who, every time you see them, seem to have just returned from another fabulous trip. In putting together USA WEEKEND Magazine's annual summer travel story, our editors did all that. To help frame the unenviable -- all right, nearly impossible -- task of limiting America's most beautiful attractions to a mere 10, we also offered a few guidelines. Nominees had to be publicly accessible and reasonably well-known. Iconic stature wouldn't hurt a place's chances, and, given the want of any objective way to measure beauty, sentimental favoritism was an acceptable tiebreaker. In other words, we instructed our experts to follow their hearts. After reading the top 10 list they produced, we hope you'll do the same.
1. Red Rock Country (Sedona, Ariz.)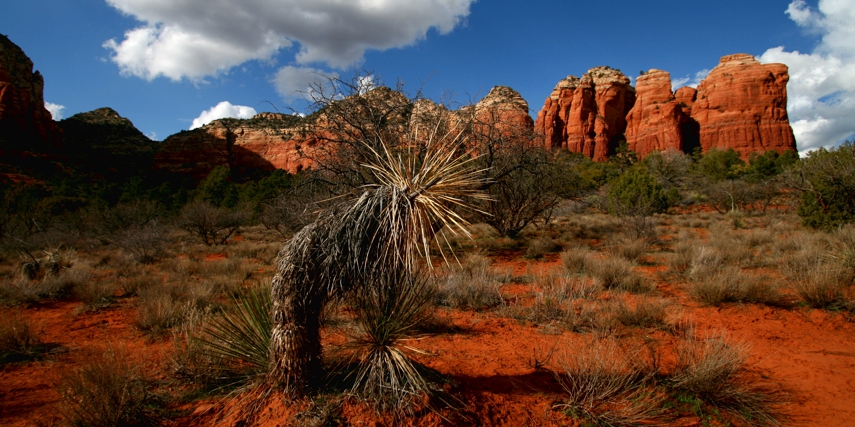 Ever since the early days of movies, when Hollywood has wanted to show the unique beauty of the West, it has gone to Sedona, a place that looks like nowhere else. Beginning with The Call of the Canyon in 1923, some hundred movies and TV shows have been filmed in and around town. We fell under Sedona's spell, too, and while debating our No. 1 spot kept returning to it for the same reasons Hollywood does: The area's telegenic canyons, wind-shaped buttes and dramatic sandstone towers embody the rugged character of the West -- and the central place that character holds in our national identity. There's a timelessness about these ancient rocks that fires the imagination of all who encounter them. Some 11,000 years before film cameras discovered Sedona, American Indians settled the area. Homesteaders, artists and, most recently, New Age spiritualists have followed. Many cultures and agendas abound, but there's really only one attraction: the sheer, exuberant beauty of the place. People come for inspiration and renewal, tawny cliffs rising from the buff desert floor, wind singing through box canyons, and sunsets that seem to cause the ancient buttes and spires to glow from within. We hear the canyon's call and cannot resist.
2. Nighttime view from Mount Washington in Pittsburgh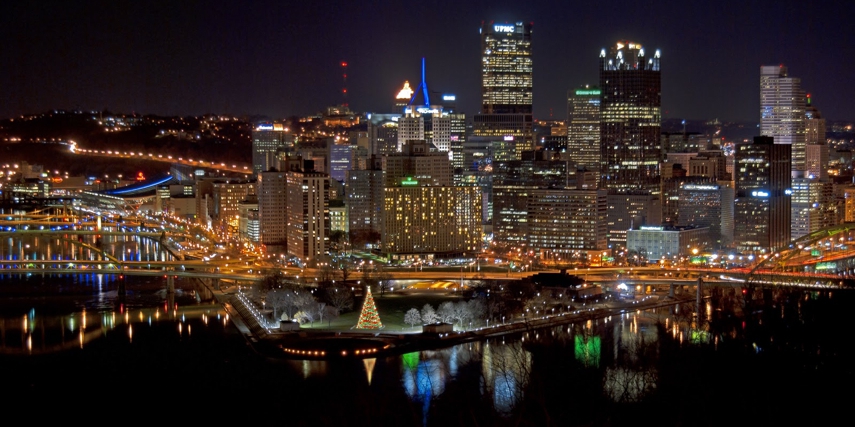 In a nation with a wealth of stunning cities full of compelling stories, ranking Pittsburgh as the No. 2 beauty spot is perhaps our most surprising choice. But the Steel City's aesthetic appeal is undeniable, as is its very American capacity for renewal. Standing atop Mount Washington, the steep hill that rises giddily on the city's south side, sightseers enjoy the unforgettable panorama of the Allegheny and Monongahela rivers flowing together to create the mighty Ohio, that waterway so essential in the nation's settlement. The rivers cup downtown's lustrous Golden Triangle, where landmark skyscrapers thrust upward like rockets. At night, lights twinkle on no fewer than 15 bridges. Almost as breathtaking as the vista itself is the urban renewal that made it possible. A century ago, a pall of smoke lay so thick over town that streetlights burned all day. As Pittsburgh continues an evolutionary course that has taken it from trading post to transportation hub to industrial goliath, we salute its reinvention into one of America's most scenic and livable communities. In the life of a city, there's nothing more beautiful, or inspiring, than a renaissance.
3. The upper Mississippi River
For third-place honors, we turn to an area less celebrated than others, but nonetheless packed with the unique beauty our nation abounds in. Its low profile makes it all the more charming. To truly appreciate the Mississippi, we leave the familiar territory of Huck and Tom and take a spin on the Great River Road as it runs alongside Old Muddy's upper reaches through Illinois, Iowa, Wisconsin and Minnesota. One of the nation's most scenic routes, it winds over hills, atop towering bluffs and through one 19th-century river town after another. The sites along the way read like chapters in American history. Ancient Indian burial mounds punctuate rolling parkland, sidewheelers ply the river, and villages on either bank present fine examples of Steamboat Gothic, the ornate architectural style born in the heyday of river travel. In Galena, Ill., 85% of the buildings are on the National Register of Historic Places. At Trempealeau, Wis., the Trempealeau Hotel has offered haven to watermen since 1888. The whole laid-back region's real draw is the river itself. Steady and timeless, it makes one fine traveling companion as it rolls toward the Gulf.
4. Hawaii's Na Pali Coast
At the country's extreme western edge, half a world away from the cradle of the American Revolution, we gain a flash of insight into the restlessness that drove our forebears from New England to the Pacific Ocean and beyond. They pushed west in search of paradise. Amid the coral reefs, beaches and mist-shrouded volcanic peaks of Hawaii's oldest island, they surely found it. Along the Kalalau Trail on the Na Pali coast of Kauai, verdant mountains plunge 4,000 feet into the sparkling Pacific. A short hike inland, where Hanakapi'ai Falls pours into a crystal pool and tropical flowers dapple the lush hillsides, the play of color and light creates the effect of an Impressionist painting gone native. Experience the splendor at your own risk: The hardest thing about a trip to Kauai is boarding the plane to go back home.
5. Golden Gate Bridge in San Francisco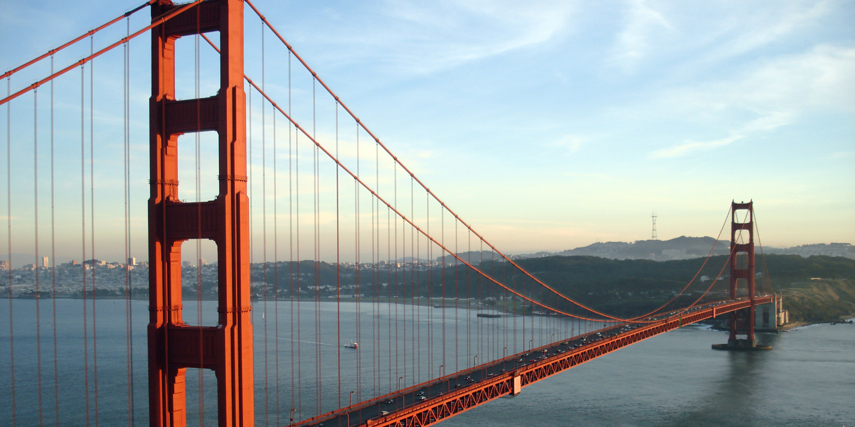 Engineering marvel, art deco icon, monument to progress: The Golden Gate Bridge does much more than connect San Francisco to Marin County. Named for the strait it spans -- the 3-mile passage between San Francisco Bay and the Pacific -- the bridge is a grand symbol of one of the world's most striking cities. Completed in 1937, the $35 million structure of concrete and steel embodied a city's unquenchable spirit -- and, by extension, the nation's. Set off by its signature orange paint job, twin 750-foot towers that seem to disappear into the heavens and spidery cables that stretch like harp strings, the Golden Gate was unlike anything else ever built. At 4,200 feet, the main suspension span was easily the world's longest. (Almost 70 years later, it ranks seventh.) Facts and figures tell only a partial story: Admired as a practical feat, the bridge is beloved as a work of art, one of the greatest the 20th century produced in any medium.
6. Grafton, Vt.
Had the French explorer Samuel de Champlain arrived in Vermont in the autumn of 1609 instead of summer, he never would have dubbed the land "Vert Mont." In fall, the foothills of the state's namesake Green Mountains blaze red, yellow and orange. Among the choicest spots to take in nature's annual art show is Grafton, right, one of the state's prettiest hamlets and, thanks to the efforts of the non-profit Windham Foundation, arguably its best preserved. The foundation has rehabilitated more than 50 historic buildings, including the Old Tavern at Grafton, a one-time stagecoach stop. Other man-made attractions include the award-winning Grafton Village Cheese factory, a pair of graceful New England churches, a nature museum, a smattering of art galleries and the almost obligatory covered bridge. But the compact village of 600 isn't really about picturesque buildings. It's about the Yankee virtues of simplicity, modesty and saving things that matter. Past and present harmonize sweetly in this vital community. Come fall, you'd swear you can hear the brilliant hillsides singing.
7. Jenny Lake in Grand Teton National Park, Wyoming
America has older mountains than the Tetons, and higher ones. But it has none more dramatic. The jagged range was formed 6 million to 9 million years ago, when grinding pressure along the Teton Fault caused two massive sections of the Earth's crust to come unhinged. On the rift's west side, a block reared up to form the Teton range. On the east, a separate block buckled under, creating the valley known as Jackson Hole. This geologic violence is what makes the Tetons so spectacular: Forgoing the nicety of foothills, a dozen 12,000-foot peaks shoot abruptly from the valley floor, literally an eruption of granite. Amid the grandeur lies glittering Jenny Lake, left. Named for the Shoshone bride of a 19th-century trapper, the pristine, 2.5-mile-long body of water mirrors the mountains' glory. Beloved by canoeists, hikers and honeymooners, lovely Jenny is also popular with elk, moose and trumpeter swans. Small and dazzling, she is one of the true jewels of our glorious national park system.
8. From Key Largo to Key West in Florida
So little actual land, so many associations: coral reefs, Key deer, manatees, pirates, Key lime pie, silver palms, Bogart and Bacall downing gangsters in Key Largo, Hemingway downing mojitos at Sloppy Joe's in Key West. Florida's freewheeling Keys, it has been said, is where things settle when you pick up the continent and shake it. This much is certain: In the Conch Republic, as Key West is sometimes called, a spirited sense of American individualism prevails. Skipping down the fragile, ribbon-thin 110-mile archipelago on U.S. 1, visitors see things that exist nowhere else in the country. With a peak elevation of 18 feet, the land mass can seem but an afterthought to the shimmering Atlantic on one side and the blue-green Gulf on the other. In places the only thing separating them is the roadway itself, panoptic water enchanting travelers with the deliciously disorienting sensation that they've become one with the sea. Along with famously colorful residents and fauvist sunsets, it's one more Key reason to visit this beguiling place.
9. Clingmans Dome along the Appalachian Trail in Great Smoky Mountains National Park
Winding through 14 states as it makes its rugged way from Georgia to Maine, the entire Appalachian Trail ranks high on any list of scenic gems. First proposed in 1921 by hiking enthusiast Benton MacKaye, the trail came into service as a continuous footpath across the Eastern states in 1937. A monumental achievement, and one that has given countless Americans fresh appreciation for the vastness of the land, it rewards exploration of every well-trod mile. Clingmans Dome, at Tennessee's eastern edge, rises to 6,643 feet, the highest point along the 2,172-mile trail. The surrounding Smokies support more than 4,000 species of plants, 230 types of birds and some 65 mammal species. From a lookout at the summit, hikers gaze upon a fog-streaked wilderness and see the East as it existed hundreds of years ago, lush forest stretching unbroken in every direction. Among the clouds, one feels doubly awed: by our county's magnificent nature, and by our duty to steward it.
10. The squares of Savannah, Ga.
In this charmed city, the urban and the pastoral gracefully mingle in a uniquely Southern way -- that is, with gentility and a generous dollop of mystery. Shaded by live oaks, perfumed by magnolias and surrounded by historic buildings, 22 enchanting public squares (including Columbia Square, above) beckon like secret gardens. Feasts for the eyes, balm for the soul, the vest-pocket parks serve as gathering places, serene retreats and tourist attractions all rolled into one. Spanish moss romantically drapes Pulaski Square, named for Revolutionary War hero Gen. Casimir Pulaski. At Chippewa Square, lorded over by a statue of Georgia's founder, James Oglethorpe, pay respects to the man who drew up Savannah's triumphant 18th-century street plan. Forrest Gump had the right idea: He contemplated life from a bench in Chippewa Square.