Round up the best of Argentina s the wine, the fishing, the tango, the mountaineering, the skiing, the literature, the beef, the architecture, the clubbing s and you have the building blocks for one of the most exciting journeys you will ever take. No joke. While so many things in Argentina are exciting, some things are better defined as mind blowing. We have cobbled together a collection of the latter. Put as many on your 'To Do' list as possible.
1. Tango
Go on, give it a try. So what if it is one of the world's most sophisticated dances. It is so sexy, you will be fired up enough to make it through that long Buenos Aires night. For a unique outdoor experience, head to the bandstand at the Barrancas de Belgrano park in Buenos Aires, where the casual milonga "La Glorieta" takes place on Sunday evenings at around 8 pm (free tango lessons are given earlier). Also try Club Gricel (www.clubgriceltango.ar) with its wonderful aging wood dance floor and Confiteria Ideal, the mother of all historic tango halls.
2. The Andes
Stretching nearly the whole length of Argentina's western edge, this amazing mountain range offers high deserts, scenic lakes, great hiking and the continent's highest peak, Cerro Aconcagua often called the "roof of the Americas". In the Andean northwest, the World Heritage-listed Quebrada de Humahuaca snakes its way upward toward Bolivia. It is a harsh but vivid landscape, a dry but river-scoured canyon overlooked by mountainsides whose sedimentary strata have been eroded into spectacular scalloped formations that reveal a spectrum of colours in undulating waves.
3. Iguazu Falls
There are waterfalls and there are waterfalls. And then there is Iguazú. A visit is a jaw-dropping, visceral experience, and the power and noise of the cascades live forever in the memory. An added benefit is the setting: the falls lie split between Brazil and Argentina in a large expanse of national park and rainforest. The falls are easily reached from either side of the Argentine-Brazilian border, as well as from nearby Paraguay. Most visitors choose either to stay in Foz do Iguaçu, on the Brazilian side, or in Argentina's Puerto Iguazu.
4. Buenos Aires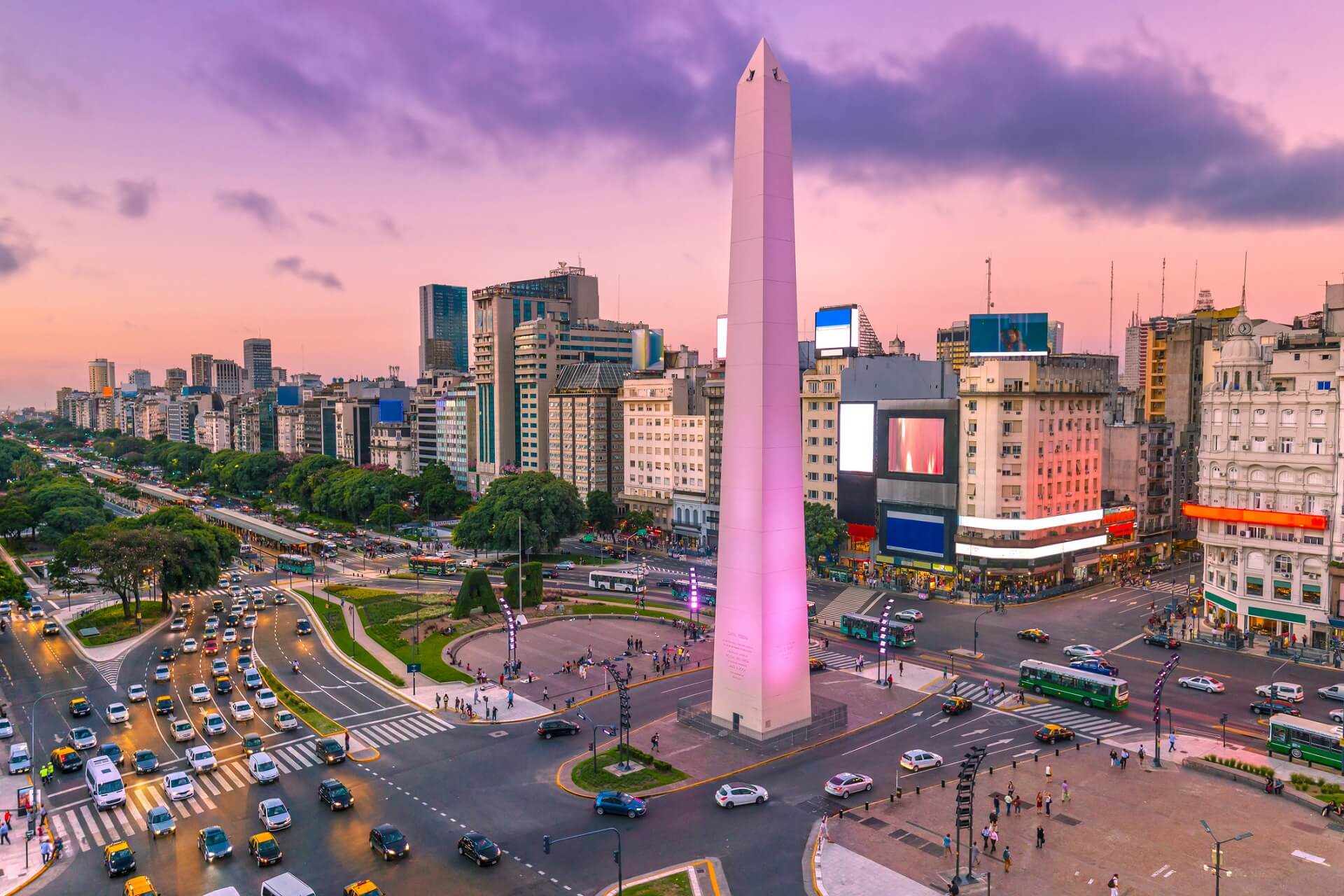 The Argentine capital is one of the world's most exhilarating cities, with astounding art, fascinating neighbourhoods, fabulous food and a passionate population blazingly devoted to having fun all... night... long. Marvel at those amazingly high leg kicks at a tango show in San Telmo, feast on steaks at Palermo's Las Cañitas or wander for hours in the Recoleta cemetery, where the city's rich and famous are buried. Bring a camera for Evita's grave.
5. Glaciar Perito Moreno
Among the Earth's most dynamic and accessible ice fields, Glaciar Perito Moreno is the stunning centrepiece of the southern sector of Parque Nacional Los Glaciares. Locally referred to as Glaciar Moreno, it measures 30km long, 5km wide and 60m high, but what makes it exceptional in the world of ice is its constant advance - up to 2m per day, causing building-sized icebergs to calve from its face. In some ways, watching the glacier is a very sedentary park experience, but it manages to nonetheless be thrilling.
6. Reserva Faunistica Peninsula Valdes
Unesco World Heritage site Peninsula Valdes is one of South America's finest wildlife reserves. More than 80,000 visitors per year visit this sanctuary, which has a total area of 3,600 sq km and more than 400km of coastline. The wildlife viewing is truly exceptional: the peninsula is home to sea lions, elephant seals, guanacos, rheas, Magellanic penguins and numerous seabirds. But the biggest attraction is the endangered ballena franca austral (southern right whale).
7. Wine
Exploring Argentina by the glass will take you - and your palate - from the malbecs and cabernets of Mendoza to the crisp torrontés of Cafayate and to the succulent syrahs of San Juan. The small town of Maipú, near Mendoza, is so packed with wineries, olive oil farms and other gourmet businesses that it is easy to hit five or six in a day. All offer tours and most finish proceedings with at least a small sampling of their produce. A few companies in Maipú rent bikes and electric scooters, making a day tour of the area an excellent outing (be mindful of drinking and riding, of course).
8. Tierra del Fuego
Maybe it is the austral light, or just knowing that the next step south is Antarctica. Whatever it is, this trove of mystical islands, cut off from the northern world by the Straight of Magellan, is indescribably magical. A storied past of shipwrecks, failed religious missions and indigenous extinction contributes to the powerful mystique of this end-of-the-earth location. Travellers flock here to glimpse the furthest reaches of the continent, and ah - what a view it is! The barren northern plains of Tierra del Fuego give way to peat bogs and moss-draped lenga forests that rise into ragged snowy mountains.
9. Cordoba
In 2006 Córdoba was awarded the hefty title of Cultural Capital of the Americas, and it fits the city like a glove. Four excellent municipal galleries - dedicated to emerging, contemporary, classical and fine art respectively - are within easy walking distance of each other and the city centre. The alternative film scene is alive and kicking. Young designers and artisans strut their stuff at a weekend crafts market that sprawls for blocks and is one of the best in the country. And if all this action is too much for you, quaint little mountain villages are a short bus ride away.
10. Beef
Whether you are dining on prime cuts in a swanky Buenos Aires parrilla or digging into a sizzling tabletop grill of chewy, flavourful, close-to-the-bone cuts in a family-style eatery, you are bound to get your fill of Argentina's most famous food. Here is a guide to some prime cuts:
bife de chorizo - sirloin; a thick, juicy and popular cut
bife de costilla - T-bone; a cut close to the bone; also called chuleta
bife de lomo - tenderloin; a thinly cut, more tender piece
cuadril - rump steak; often a thin cut
ojo de bife - ribeye; a choice smaller morsel
tira de asado - shortribs; thin strips of ribs and meat sliced crosswise
vacío - flank steak; textured and chewy, but very tasty